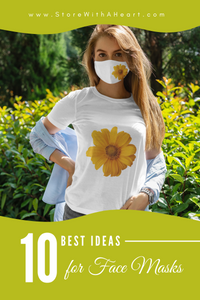 Top 10 Face Mask Ideas for You
Here are the top 10 tips to make your face masks a notch higher and better than what it normally is. Follow Store with a Heart, pin this idea, share and comment to show some love. Head to www.storewithaheart.com to grab your extra-special face mask, and make a difference with it too.
10. PAIR IT UP
Match it with your shirt or your whole get up
9. DARE TO BE BOLD
Restrictions and lockdowns need not be gloomy. Brighten it up!
8. DARE TO EXPLORE
Be plain if you wish. Yet don't hesitate to try fresh new face mask designs!
 7. BE INSPIRED
Have a favourite verse or quote in mind? Why not put it into your mask?
 6. DARE TO INSPIRE
Have something to say? Why not have others read it and be inspired too?
 5. SHOW THE LOVE
Want to make someone feel special? Give a face mask as a gift?
4. SHOW YOU CARE
Buy a face mask via Store with a Heart, and pay it forward.
3. BE COMFORTABLE
Wishing your mask has a slacker fit? Try an ear saver for less ear strain.
 2. SAVE UP
Use the coupon code SWAH10 to get a 10% discount from the store.
1. BE YOU: CUSTOMISE
Make your mask more special. Add your own text, logo or design.
TAKE ACTION
Ready to buy your face mask? Wait no further. The time is now.
---