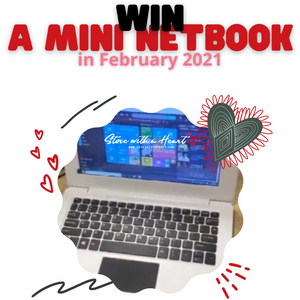 Win a Mini Netbook (Part 2)
We've already had two (2) lucky winners of a netbook each earlier this year. However, due to the voluminous amount of entries, we are holding another promotional round for one (1) more netbook.
If you've never had a netbook in your life but owning one will change your life especially if you or a family member need to do online classes or perhaps got a small business, then here's your chance. 
It's free to join. You need to initially shoulder the 200 pesos delivery cost, which will be refunded back to you subject to other terms and conditions. 
Depending on the quality and quantity of entries, consolation prize/s may be awarded to one or more participants. Prize/s will be determined later.
Join this if You Deserve to Receive a Mini Netbook in February 2021
Here are the netbook's specifications:
10.1 inches mini netbook/laptop for Android 5.0
VIA 8880 Cortex A9 1.5 GHZ 1G + 8G Wifi Mini Netbook
Condition: The box has been opened and device system has been upgraded, but the device has not been used.

Dimensions: 280*190*27mm
CPU: VIA WM8880 1.5GHZ
Operating System: Supports ANDROID 5
Multimedia Decoding: Supports various audio format such as MP3, AAC/AAC plus, WMA and CAT; Supports video formats such as MPEG-1, MPEG-2, MPEG-3, MPEG-4, AVI, FLV, WMV/3GP/DIVX/XVID
Apps/Software that you could install on the device: Office 365/G-suite, etc. You may need to pay for a subscription fee to download some software; refer to the providers for more information on installation/download/payments/etc.
Memory : 1GB
Hard disk: 8GB
Camera: front 0.3M pixels
Screen: 10.1"" TFT 1024x600 LED back lights
LAN: 10/100M Ethernet Access
WIFI: 802.11b/g/n
Keyboard: 80-key Notebook standard English keyboard
Mouse+Touchpad: built-in touch pad, set two shortcut key, and supports USB port mouse
Port: USB2.0*2, HDMI*1
Card port: SD/MMC card
Sound effect: In focus Audio
Build-in stereo speaker
Build-in Microphone
Battery: 3.7V 3500MAH
Adaptor: AC 100~240V, DC 5V / 2A

Package Included:
1 x Notebook
1 x adapter

----------------------------------
TIPS FOR BETTER DEVICE PERFORMANCE:

1. Charge the device first into full capacity before you use it.
IMPORTANT: Let me know within 24 hours of receiving your device if there are issues.

3. Don't save anything into the computer, because it only has limited storage capacity.
- Using too much memory will slow it down as well.
- Reserve the storage for important school/work apps only.
- Use Google Drive (or a USB stick) when saving your files.
- Avoid installing games:
---to avoid being distracted when you should be focusing on studies/work, and
---to lessen cached files that will use up much of your device's memory capacity.

4. If you cannot afford to buy a Microsoft Office 365 online subscription, download pther cloud-based apps such as Google apps instead (e.g. Google Slides instead of Powerpoint, Google Sheets instead of Excel, Google Docs instead of Word, etc.).

5. You may be prompted to upgrade the system. If that's the case, please do so.

6. Note that this device is dependent on wifi internet connection. Try various network providers' data promo for more savings.
---
7 comments