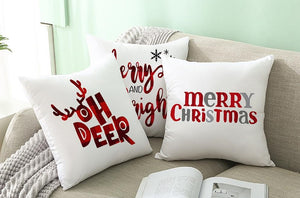 Win a Bright and Cheery Cushion Cover!
#Christmas Cushion Free Giveaway
It's COMPETITION TIME!
Win one (1) Cushion Cover to match the festive cheer of the upcoming Christmas season. If you win, you could choose from a wide variety of options, depending on your location. (We may give a $20 gift card, too!)
There are many ways to enter. The more entries you get, the more chances of winning.
We will announce the winners on 31 October 2020 or when Store with a Heart has reached 5,000 Facebook Fan Page likes, whichever comes first.
If we reach 5,000 likes on or before 30 October 2020, we're giving away one (1) gift voucher worth $20 Australian dollars to spend in our online store, too. 
This competition is open to all countries that we deliver gift products to. You must be at least 13 years old or of legal age in your respective country to join the contest. If you are underage, you can join if you have the permission and supervision of a parent or guardian.
Don't miss out!
It's free and easy!
Join now!
Start by choosing one of the login options above.
Lots of love,
Store with a Heart™
www.storewithaheart.com
---------
There's a hero or heroine within each one of us. Let that light shine through, especially for those in whose lives such would matter most.
Don't let distance and circumstances prevent you from letting someone know you care.
Send gifts through us with free tracked zero-emission shipping to most countries and money-back guarantee. Help feed the hungry when you buy our featured products. We've got great gift finds for all budgets, discounts, and fairtrade and organic options, too. Buy now, pay later with Afterpay™ or Humm™. PayPal™, Gcash™, and major credit cards are accepted. Shop securely anytime, anywhere. Plus, there's more for you, your dear ones or your random act of kindness.
Together, we can make a difference.
---
13 comments