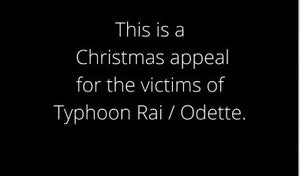 This is a Christmas appeal for the victims of Typhoon Rai (Odette)
Will you help someone this Christmas?
Life is already difficult for a lot of us - with or without the pandemic. Yet, what if a super typhoon makes it a lot worse? Will you help someone in need? Will you give a heartfelt present to someone who need it most?
There are many ways you can help. Here are some:

1. You can donate through our GoFundMe fundraiser. Proceeds will go to the victims of super typhoon Rai (Odette) in central Philippines. 
2. Buy a gift to make someone smile and pay it forward, too. 
We cannot help everyone, but each one of us can help someone. That's what a famous person once said. We agree.
So, support a local business. Make someone smile with a small token. Surprise a loved one with a random gift. 
Whatever it is, it matters. Never underestimate the power of a small act of kindness.
At Store with a Heart, we are making it easier for you to do your good deed.
Use the discount code TYPHOONVICTIMS on checkout to get your 10% discount. 
Plus, you'd be helping others with your purchase. 10% of gross sales will be donated to help the victims of Typhoon Rai (or Odette). 5% will also help feed the hungry via Pledge.
---